Customer messaging platforms are a great way to keep in touch with your existing customers and for engaging new prospects. Messaging platforms have been around for a while varying from simple chat solutions to more sophisticated platforms that combine marketing activities, customer support and client self-service via chatbots.
While the technology isn't necessarily new and has seen some adoption by the insurance community already, there is a large variety of potential use cases brokers should be aware of.
This article explores the various uses brokers can make of customer messaging platforms as well as other ways brokers might interact with such platforms.
Responding to your customer queries effectively
The first and perhaps most obvious use for messaging platforms is customer support as evidenced by an increasing number of websites that tote some form of online chat window. Adding such an element to your website can create a frictionless channel for customers to post their questions and get quick feedback in their preferred manner (there is evidence that chat is becoming the main channel with calls reserved for escalated queries). According to recent consumer trends, having an efficient chat/self service solution can reduce a website visitor from abandoning their journey.
Marketing
Some customer messaging platforms also have outbound marketing capabilities with contextual insight allowing you to capture the contacts of people visiting your website as well as their activity/conversation history, which can later be used to send tailored messages about cover they might potentially be interested in. Intercom, for example, has integrated emailing capabilities which allow you to do bulk emailing to a number of website leads with dynamic content based on the person's interaction with your website or app. E.g if the person had browsed the Motor Insurance section on your site it can trigger a relevant message to pop up in the website chat or trigger the appropriate change of content in outbound email.
Manned vs Automated chat solutions?
There has been a lot of talk of chatbots in insurance media thanks to companies like Spixii making large strides in automating the customer experience. This does not necessarily mean that fully automated solutions are necessarily the way to go for all brokers. Brokers offering more complex lines of insurance such as Commercial Combined might find automating the entire customer journey on a chatbot challenging, but sometimes it can make sense to automate at least part of the journey. For instance, a chatbot is able to very successfully capture a website visitors name, email and general insurance interest after which a real person could take over. This transition can be made quite seamless, but the technology is not perfect so brokers should consider notifying customers when they are talking to a bot vs an actual human being.
Other ways brokers can benefit from customer messaging platforms
Brokers can also benefit using customer messaging platforms that aren't necessarily their own. Insurers and MGAs should consider integrating messaging tools to their existing broker portals to service their brokers faster. The upside of this is that brokers can have direct access to their underwriters while they are working on the platform so if they need help with a quote they are able to post their question and get feedback from the same channel. This saves the trouble of switching to email or call and can also make the problem easier to identify for the underwriter as brokers can conveniently post screenshots through the chat window. Some platforms (e.g Intercom) can also track user activity helping underwriters to quickly get to the bottom of the issue.
Where to start?
Not every broker has an online sales platform so the simplest way to start is by integrating a messaging system to your website.
There are numerous platforms to choose from: Intercom, LiveAgent, Zoho SalesIQ, Freshchat, Kayako, Drift, LivePerson to mention a few.
Thankfully, many of these platforms are also easy to integrate without much technical skill needed. Pricing models vary from the user based to volume-based models, meaning decent customer messaging platforms are affordable also to smaller brokers.
The article was first published on Insurance Age blog.
About Insly
Insly is a cloud-based insurance software for MGAs and Brokers. *Quote & Bind solutions for broker/direct channel. *Slick underwriting and policy admin. *One-click carrier reporting. *API connectivity with unlimited potential.
Managing general agents (MGAs) and innovation go well together. A combination of resources, agility, and specialist knowledge sets MGAs apart from other players in insurance, whether carriers, wholesalers, or brokers. An MGA typically has a focus on a sector or an industry and deeper knowledge than a more generalist insurance carrier, facilitating innovation. At the same time, MGAs have underwriting and claims settlement capabilities that brokers and agents do not have, allowing the MGA to push the innovation envelope further. 
While there may be no method for 'innovation by numbers', MGAs can: 
Offer innovative products to their market

 

Move into new markets

 

Innovate in the way they interact with their customers

 

Improve the way they operate internally

 

Change the DNA of the MGA.

 
We look at each of these possibilities below. 
Innovative products for MGA markets
An MGA that does not know what its customers need is unlikely to innovate successfully. Nowadays, there are considerable amounts of data on customer requirements and pain points, including for niche markets. Business intelligence and data analytics software solutions are available for non-technical business users, meaning that MGAs are not obliged to hire armies of data scientists to get insights out of their data.  
MGAs can use their power and agility to keep pace with industry trends such as pay-for-use solutions. For instance, even in the niche market of aviation, manufacturers are already selling jet engines on a per-usage basis. MGAs can then follow on with usage-based insurance (UBI), using the device data collected via the Internet of Things (telematics via the IoT). A similar approach exists for automobiles. UK geolocation company Telefleet recently launched a new MGA specializing in motor insurance and vehicle fleet risk based on telematics.  
Moving into new markets
Insurance has a large amount of untapped potential. The US insurance market overall generates more insurance revenue than any other country, yet still shows comparatively low rates of premiums per head of population. In another example, insurer Swiss Re estimated that just 1%  of losses were insured in the 2015 Nepalese earthquake, compared with 73% for the 2012 New Zealand earthquake. 
Forward-looking MGAs also approach markets from other angles with offers based on micro-insurance and atomization. In these cases, customers can purchase insurance on a per-item, per-use, and per-period basis. In another example from the UK, Zego offers insurance for the 'gig economy'. With this kind of solution, Uber and Lyft drivers can purchase cover by the hour, Airbnb and Homestay renters by the night, and TaskRabbit and Askfortask jobbers by the day. 
Improving interaction with customers
Blame Amazon (among other service leaders) for customer expectations continuing to rise in terms of choice, responsiveness, self-service, and overall quality of service. Yet once again, MGAs that are on the ball can turn such situations to their advantage. In India, L&T General Insurance Company offers property and casualty insurance to individuals and enterprises, but with a difference. Given the widespread use of mobile phones (some 800 million in India at the last count), the company 'went mobile' from the start, designing in the ability to satisfy customers for their insurance entirely via their mobile phones. 
Other insurance companies have taken a lead from supply chains and retailing organizations by implementing an omnichannel model. Whether by mobile, web, phone or email, they offer the same customer experience with consistent policy pricing and management. Speed and quality of service can also be enhanced by the suitable use of chatbots and artificial intelligence. Insurance provider Lemonade has already made a name for itself through its use of AI for its chatbot Maya and claims bot AI Jim for high-speed automatic claims settlement. 
Rejigging internal operations
Innovation is not necessarily about doing something fundamentally new. It can also simply be a different approach that gets better results. Artificial intelligence is a case in point. Initially seen as highly disruptive and even threatening, AI is increasingly considered to be a tool to help employees work better rather than to replace them. Software start-ups like Logical Glue in the UK have been developing 'explainable AI' (XAI) that helps staff with recommendations about which insurance policies to offer a customer and gives information about the reasons behind the recommendations.  
MGAs that innovate in products and markets also need flexible internal systems, such as Insly, that make it easy to define and launch new products, as well as processes for managing and leveraging innovative ideas. Yet whether the innovation is disruptive or progressive, the agility of many MGAs allows them to transform their operations and move to new, more efficient operating models more easily than their larger carrier counterparts. 
Building new kinds of MGAs
There is also a more radical way to innovate. Creators of MGAs can change the way in which the MGAs are formed or integrated to take on new risks. Boxx Insurance, an InsurTech MGA from Canada, offers its customers a cyber protection platform and risk evaluation tool in addition to selling them cyber insurance. Buzzmove in the UK provides its customers with removal services and associated insurance that it sources automatically through the API of its tech partner Insly. 
Black Insurance from Estonia uses blockchain technology to connect brokers and MGAs directly with capital. Instead of looking to an institutional carrier to help finance the products, funds can  be raised via initial coin offerings (ICO). Black Insurance sees blockchain as a way of rebuilding the existing Lloyds of London business model with considerably lower operational costs for all parties involved.  
Conclusion
The proximity of MGAs to their customers makes them well placed to create and develop suitable new insurance products. They can also extend current activities into underserved areas or adapt characteristics such as granularity (article by article insurance) and term to reach new markets.  
In some instances, MGAs can bring innovation into insurance by using ideas in existence elsewhere. In others, they will need to manage changes specific to the insurance sector, such as the possible replacement of carriers by pools of investors or even by customers themselves in peer-to-peer arrangements.  
Technology will still be a means to an end and not the end itself. A customer-centric approach will continue to be vital. MGAs that understand the difference and can apply the principles in the right way should have a bright  future ahead of them. 
About Insly
Insly is a cloud-based insurance software for MGAs and Brokers. *Quote & Bind solutions for broker/direct channel. *Slick underwriting and policy admin. *One-click carrier reporting. *API connectivity with unlimited potential.
Warranty Insurance is an MGA focused on providing extended warranty and accidental damage insurance for electronics retailers, dealers and manufacturers, specifically those with a large customer base in the CEE. Warranty Insurance's largest customer is Euronics – a well-established retailer with a physical presence in 31 countries across Europe. With the help of Insly, Warranty has launched an innovative insurance product which is offered in Euronics electronics retail stores and also online.
Customer problem
As technology becomes more advanced and complex, the odds of experiencing a potential failure increases. This is further reflected by the ever-decreasing product lifespans and the shortening of manufacturer warranties.
Since technology is playing an increasingly important and broad role in our lives, the chance of experiencing defects or malfunctions is relatively high. Repairing an out-of-warranty device may turn out to be very costly or even impossible. According to statistics, 40-50% of all large appliances have been repaired or replaced between their 3rd to 5th year and 1/3 of them have required multiple repairs. Furthermore, about 80% of defective TV's would have been more costly to fix than to buy a new one. Extended Warranty adds additional years to the existing manufacturer warranty.
Euronics needed a solution for the following:
to simply extend the warranty of the products sold;
to have one system with a simple user interface for the on-site sales team;
All of that being critically important, saving a lot of time and money for both, Euronics and the end-users of electronics products.
Solution
Warranty Insurance worked with Insly to develop the needed solution. Insly solution was able to correspond to all of the customer needs and streamline all the required processes with just some minor tweaks.
"We know that the Insly solution is perfect for policy administration and reporting, but the work Insly's team did to meet our additional needs for sales process simplification at the store level exceeded all our expectations," says Ando Kivilaid, CEO of Warranty Insurance. It is definitely a challenge to find reliable accounting solutions with flexible and simple user interfaces for sales staff in one solution, but this is exactly what Insly has provided us, he adds.
The customization of Insly solution was quick and easy for both Warranty Insurance and Euronics.
End product
As a policyholder, Euronics has concluded the insurance contract for electronic and smart devices, where buyers have the option to keep the insurance cover for their devices in the insurance of third person's insured risk principle.
Thanks to the solution built on Insly platform the sales process is simple for the in-store sales teams. With just a click the insurance cover can be added to a TV or refrigerator sold, many "problems" are solved in a very short period of time on site and in one system.  "This is exactly what we and Euronics were looking for, simple and fast processes with the digital policy handling, via a user-friendly interface," says Ando Kivilaid from Warranty Insurance.
We recently had the pleasure of interviewing Khoo Kok Peng, Founder of the Singapore-based Svalinn Risk Solutions Pte Ltd.
Who is Svalinn Insurance Agency?
Svalinn is the name of a legendary shield that stands before the sun in Norse mythology. And we are its shield bearers. The role of a shield bearer in medieval times was to protect his lord in battle, using his shield to deflect blows and arrows.
I believe that the same role today is carried on by men and women who make insurance their craft, who serve and put the interests of their clients above their own.
I formed Svalinn in 2015 as an insurance agency focusing on Financial Lines, serving mainly startups and SMEs. Many of my current clients gave me a chance at the start, but I had to work really hard to earn their trust and to make Svalinn one of the top Financial Lines specialists in Singapore. 
How did you improve efficiency in 2 weeks?
We were growing so fast that we simply outgrew our existing CRM system. The old system was unable to track policies bound/renewed/not issued or generate timely reports on outstanding premiums not collected.
I got frustrated with the increasing frequency of missing policy documents and the delay in collection of premium payments. I tried out different software, but was disappointed as most of them didn't fully understand the business workings of an insurance brokerage. Until I found Insly online.
The video tutorials were very useful, so I decided to try out their system.
Märtin from Insly was very helpful in answering all my queries and I was able to setup Insly for my agency within a few weeks.
How has Insly helped your business?
One word, speed.
We don't have to log into multiple systems to find out information about our client's policy, whether the invoice has been issued or if the premium has been collected – everything is available on Insly.
Insly has streamlined our entire process from quotation, binding cover, collecting payment and claims handling. We can see real time information now on all our renewals, new sales, quotations and claims.
Insly has made my agency more efficient and agile Click To Tweet
In summary, Insly has made my agency more efficient, agile and better positioned to take advantage of opportunities in the new economy.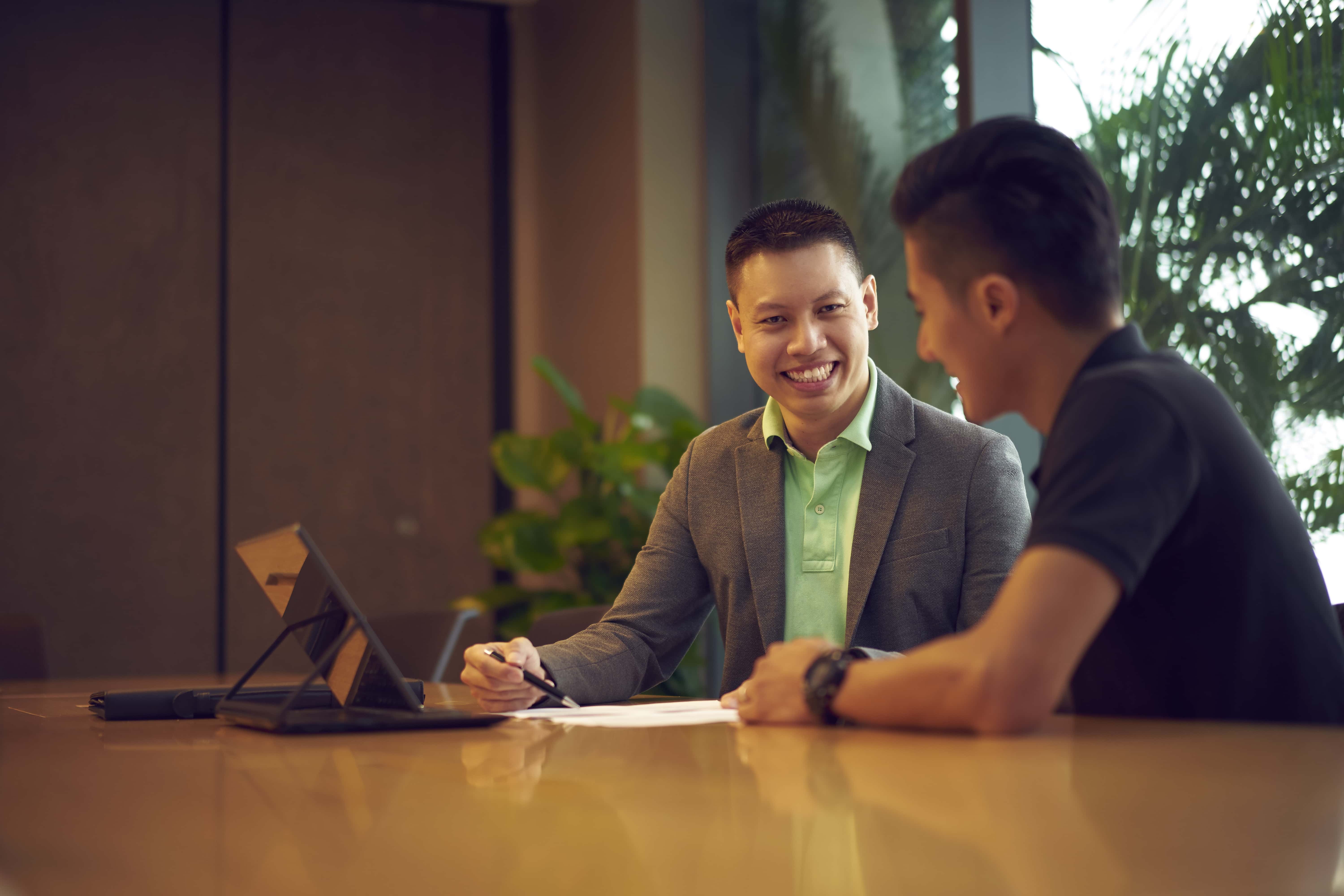 In photo: Khoo Kok Peng, Founder of the Singapore-based Svalinn Risk Solutions Pte Ltd
I often meet start-up founders determined to improve insurance distribution and customer experience, with most of the solutions targeting millennials. They are often millennials themselves, or at least emphasise with the needs and wants of this segment. These brave souls don't often expect what cruel faith has in store for them – the inflexible "suits" in traditionalist insurance companies who want little to do with start-ups and product innovation.
The single biggest obstacle faced by pretty much all those entrepreneurs is the lack of control over their product. Since they are limited to selling the products offered by insurers, they can quite ironically innovate everything else except the very core – the product itself.
A start-up aspiring to come to market with a telematics-enabled usage-based motor insurance app can expect to discover that insurers "don't' have appetite for that type of risk" and would much rather work withold-school motor cover that requires your hairdresser's age for calculating the premium, besides 200 other variables.
"Start-ups are limited to wrapping these old, often cumbersome products in a nice user interface."
As the product sits in the centre of customer experience, there's only so much that these start-ups can do – more often that not, they are limited to wrapping these old, often cumbersome products in a nice user interface.
Considering the poor customer experience level that online insurance customers have traditionally been facing, a posh design with a clever quote form logic can maybe win a few hearts – but unfortunately it falls short of a serious sustainable competitive advantage.
Moreover, the entire start-up management methodology is built around experimenting with every aspect of the organisation and its operations, with product characteristics being obviously amongst the most prominent variables. If the product is "locked in", it's like boxing with your better arm tied behind your back.
"To redesign the value proposition, you need to control the entire value chain."
Amazon would not be Amazon without controlling the whole customer experience from sales to delivery (and everything between), Uber would not be Uber if its product would be limited to an app for ordering regular taxies. Tesla couldn't have built the best electric car by just putting an electric motor under a Volkswagen's bonnet. To redesign the value proposition, you need to control the entire value chain, and in insurance it includes the product, support, process, pricing, claims and payment collection.
The main reason behind that problem is the inherent risk averse nature of the insurance industry. Insurers want to underwrite portfolios with historical profitability data, which certainly makes sense; however, one can't experiment with new business models and underwriting concepts without being capable for a small leap of faith. The leap of faith of putting the customer journey first, and the leap of faith of trusting the new underwriting ideas created by new technology and customers' digital footprint.
Vikings decided to sail to England and beyond without knowing if any land exists there, and in order for insurance industry to find new territories they too need to unlock the courage of sailing to uncharted waters. Of course, it can be wise to send ahead a scouting ship before committing your whole fleet to the unknown
"It's about time insurers stop merely paying lip service to innovation."
This is probably why US based start-up Lemonade became an insurer instead of an intermediary although it required a substantially larger investment. Bad news is that most start-ups fail to raise $12 million to capitalize an insurance company without demonstrating any real traction – but there can't be traction without a product. Catch 22.
Thanks to considerable entry barriers, including regulatory ones, insurers have felt relatively safe against disruptive innovation from newcomers. The immune-system-weakening effects of this "quarantine" have become glaringly observable by now, with insurance lagging behind in efficiency and customer experience. There's no Uber for insurance – yet customers are getting used to the experience level enabled by new technology in other industries.
It's about time insurers stop merely paying lip service to innovation, and start going with the flow of experiments proposed by dozens of start-ups, desperate to find underwriters for their novel product ideas. Of course, not all these ideas end up being great. Of course, not all these ideas end up being great. But such is the nature of experimenting.
Photo credit: Shutterstock
Market Minds has recorded a very fun and captivating podcast with Insly's CEO and founder Risto Rossar and project manager Mart Parve, introducing Insly as a cloud based CRM and policy administration business for insurance industry.
Conversation is centered how to bring innovation to insurance industry. How right now the industry wastes energy and which steps needs to be taken to change this. Discussion about the current state of London's insurance market and if and how it needs to be renewed.
Listen to the interview and find out how Insly is digitalising insurance intermediation business by helping all insurance brokers and MGA's to become 100% digital, leading them to achieve bigger sales and lower costs.
Find out what are the key components for "winning the game".
Also, some entertaining stories about the speed of operating of Estonian insurance companies and checking business which still excists in some countries.
During my time in London I have met hundreds of insurance brokers, investors and innovators in FinTech, and the surrounding, wider insurance industry. The question that I have been obliged to answer most is:
"Is Insly building and selling technology to a dying industry?"
The domination of direct online sales and aggregators in UK retail insurance market, as well as the near disappearance of insurance brokerage industry in Scandinavian countries, suggest the clear validity of this question. As I've built my business around developing software for insurance intermediaries, it is essential for me to have this question answered – so that's why this blog post was written.
First, let's get on the same page with the definition of a broker. I'm afraid that the ones casting death sentence to insurance brokers picture the broker as a 68-year-old person running a small office with 4 employees and 3 computers on the corner of Baker Street, and this indeed represents one certain type of broker businesses. Insurance broker is an intermediary that represents customers in the insurance distribution process. It doesn't say anything about how the transactions are handled, over which channels the products are distributed nor how technologically advanced it is.
"So, asking whether insurance brokers will be replaced by technology equals to the question whether transportation industry will be replaced by autonomous cars."
So, asking if insurance brokers will be replaced by technology equals to a question if transportation industry will be replaced by autonomous cars. Until human teleportation is invented, we still need the car that transports us, we're just talking about removing the human operator from the driver's seat at this point. Similarly, the nature of insurance broker business will change considerably over the course of next years to come, just as it is the case across many other industries, with just some of the trends listed below:
increasing prevalence of interactive channels, specially mobile
automation of business processes
improved risk selection through IoT solutions and better data quality and analysis
possibly profound, yet largely uncharted advances in industry structure, brought about by the blockchain technology
decreasing reliance on costly human labour
Brokers are OK – if they're of the new type
And guess what does the industry need for all of that to happen? It needs technology, a lot of it, and this is exactly what we're doing at Insly: empowering insurance industry with technology to embrace the innovation in that sector. Many of the current trends concern the distribution aspect of insurance business, with the main emphasis being the move to online sales and servicing, be it over the web or mobile. Will customers start to buy more "direct" (from insurer, without intermediary)? I don't know but it sure seems the genie is out of the bottle.
The brokers are already losing battles in some countries, for instance in UK where consumer insurance has largely moved online to bypass brokers. On the other hand, the immensely successful online aggregators can also be considered a new type of brokerage on some level (new Insurance Distribution Directive has already categorized them as intermediaries), since they too compare prices to assist consumers in their choices, and act as intermediaries. So the ones losing seem to be only those not embracing technological change and having been slow to start selling online.
In Scandinavia, customer loyalty is generally high in financial services, and people are used to buying insurance from the same company that their grandparents preferred. When you also consider the extensive lobby insurers have made against brokers, including a legal ban on insurers to pay commission to brokers, it's not surprising there's not much brokering business to speak of. But UK and Scandinavia are not the representation of the world. For example, the number of people employed in insurance intermediary sector has been increasing in US, and direct business is yet to have any serious effect on brokers. The story is similar in Estonia where brokers started to sell online even earlier than insurance companies – already in 2001. Nearly all brokers are using the Insly software, and as a result, brokers haven't lost any market share at all.
It might be insurers in the sickbed, not brokers
The fact that insurance brokers have lost some battles in some countries doesn't mean that insurance intermediation industry as a whole is dying. Insurance intermediary sector has shown immense capability to innovate, with most insurtech innovators (think of Friendsurance, BoughtbyMany, HeyGuevara, Moneysupermarket, WorryandPiece, Simplybusiness, Knip, FinanceFox etc) starting up precisely as intermediaries, as in principle, you can do everything that insurance company does by being an intermediary, without the burden of actually being one.
In fact, I'm having a hard time remembering any great, major innovation stories starting from the insurance companies (except DirectLine, and that was 30 years ago). This pain of stagnation is indeed also felt by the insurance behemoths themselves as nearly all of them are doubling down on innovation programs. Can these initiatives have the effect that is expected? Are they quick enough?
"In fact, I'm having a hard time remembering any great, major innovation stories starting from insurance companies."
The war for customers is always won by companies that understand customer needs and make them happy. We are seeing many new services where insurance companies are bypassed altogether, with online channel operators (essentially agents or brokers) making direct deals with reinsurers – for instance the recently started cooperation between Trov and Munich Re.
The industry structure is shifting but as of now, it's not at all decided which participants – insurers, brokers, agents or reinsurers – stand to gain and which ones end up losing. Some things are certain though. Only the digital will survive. And in the new world, it's not about big eating the small anymore, it's the fast eating the slow.
Photo credit: Shutterstock
For more than 15 years, Insly team has been a main contributor to innovation in the insurance industry. We were the first ones to launch Internet sales, along with price comparison in 2001, and we changed the way insurance is sold in several sales channels (banks, leasing companies, car dealers, gas stations, etc.). We introduced the concept of wholesale brokerage to Estonia (hardly a new concept in London) and we are currently building the first global Cloud-based software for insurance agents and brokers.
These changes to our approach have significantly improved our efficiency, but it is quite clear that the insurance industry (brokers, agents, and insurers) has not progressed at the same pace. The question is – Why not?
The answer is not as simple as one may think.
Insurers may have a lot of money to invest, but they lack both the flexibility and the motivation to change their ways of doing things. They are also struggling to factor in legacy systems and a number of other considerations. The best that they can do is slightly modernize their client fronting solutions, but a massive overhaul to how insurers operate is simply unrealistic.
Brokers and agents, on the other hand, are often small companies that lack the resources to invest on a serious scale, which means that the payoff is small. Many seem to be somewhat old-fashioned and unable to drastically change their established practices. Perhaps the most obvious evidence of this came from our small market survey in London, which revealed that only 2 out of 10 insurance broker CEOs have LinkedIn accounts.
Besides the individual actors' unwillingness to adapt and modernize the industry, the regulations for compliance also pose a significant obstacle to reform and innovation. Anything that has the smallest chance of being non-compliant is quickly rejected, as the industry has continued to accumulate regulations and confusing "legalese" that makes it intimidating to think too far outside the box. When large sums of money are in play, those companies are obviously at the biggest risk, and they actually employ people on their payroll to caution them against risky maneuvers. The compliance officers on the payroll of large companies are also tasked with preventing risks and signing off on any new ideas before they are enacted.
Change comes slowly in certain industries
Change comes slowly in certain industries, specifically when a new idea is viewed as being disruptive. Major changes usually result in shifts to power dynamics, so to protect those vested interests, lobby groups and the framework implicit in the business model make it very difficult for these new ideas to come into play without being tied up in legal battles over compliance. Entrepreneurs struggle to break into this industry for precisely that reason; we have seen it happen with each and every one of our innovative ideas – without exception.
Unfortunately, with all of those long-standing obstacles to innovation and evolution within the insurance industry, few creative and forward-thinking young people choose to enter this field. The fact is, most people that we meet are only here to make money, not to achieve their specific vision of changing the world for the better. The industry seems designed to hamper innovation and remain stagnant in its profitmaking rut, but there are still some who work to advance the plot. At Insly team, we are proud to be a part of that latter group.
While the founder of Lloyd's might be amazed by how far Lloyd's of London has come in a little over 300 years, the insurance market is no longer the pioneer of the industry that it once was. It is now lagging behind in this age of constant insurance technology innovation.
In the 1600s, Edward Lloyd made sure that his coffee house (coffee houses served as business centres throughout London at that time) had the best and most information to offer. Today, the reality is that the London insurance market is operating with a surprisingly low amount of information. Big Data holds the power to dramatically improve the market, and the market knows this. In a 2014 global survey by The Economist of insurance executives, 86% of respondents said they are currently or will soon make more use of their data. These are positive signs of change, but many risks are still insured based on gut feelings and very basic tariffication, and it is not rare when an insurance policy is renewed and all the data is rekeyed into the system. Some brokers simply keep all their data in folders on their computer hard drives. This outdated mode of operating cannot sustain Lloyd's prominent position, as the study released by London Market Group and The Boston Consulting Group last year made very clear. So why is it like this? There is no excuse for the insurance market's refusal to innovate, but there are a couple of reasons to explain the lack of insurance technology innovation so far:
1. The market is heavily regulated
The insurance market – and especially the London insurance market – is quite heavily regulated. I am quite certain that the average insurance broker or MGA pays more money to compliance consultants than they are spending on software. Difficult regulation creates several problems:
It complicates the process (innovation requires simplification).
It absorbs time and money.
It makes us hesitate to change the way we work (change creates risk of not doing correctly).
The paradox of regulation is that it is supposed to protect clients, but extensive regulation actually deprives clients of good service. In PwC's 18th Annual Global CEO Survey, over-regulation is cited as the main threat to growth.
2. Lack of innovative minds
The challenge is also to find innovative young talent for the insurance broker industry, which is currently dominated by very experienced (but complacent) insurance professionals. The problems mentioned above combined with the unsexiness of the insurance industry and a completely boring work environment (compared to what many startups and coworking spaces in London are offering) just does not attract innovative minds. (It is no coincidence that Insly and the new insurance startup Worry+Peace are located in the Rainmaking Loft, which is still close to the insurance centre but full of inspiring young startups.)
In light of these hindrances, is there any hope for Lloyd's to change? I have to respond with an enthusiastic YES. Lloyd's is in the perfect position for technology innovation because the London market has several elements that the traditional insurance market does not possess:
Small is able to innovate
Hundreds of small brokers and agents (MGAs) are logically much more likely and able to innovate than very big insurers. The London market is well known for innovative underwriting practices — here you can place risks and create products that are not accepted by traditional insurers. The groundwork for technology innovation is already in place. Now the sector needs to take that same approach with IT. Big traditional insurers have huge IT budgets which are mostly spent on upgrading old IT systems. MGAs can change the way insurance is distributed without the need for huge budgets.
There are not a lot of incumbent IT systems
Most London brokers are working without IT systems, or they are working with IT systems that are rather easy to replace. That is exactly why the banking system in Estonia is much more technologically advanced than the banking system in London. Estonian banks have been able to create completely new, flexible IT systems instead of replacing or updating old ones. The London insurance market can do the same.
London is the home of FinTech innovation
Everything the insurance market needs to innovate is available right here. They just need to take themselves out of the comfort zone of Lime Street pubs and instead visit some FinTech events. That is how they can tap into the technology, skills and innovative spirit of London's FinTech revolution and create change in their own industry.
With the help of a good technology partner, an MGA operating on the Lloyd's of London market can become an innovative digital insurer in a matter of minutes. According to a report from Morgan Stanley and the Boston Consulting Group, such an insurer is able to reduce the combined ratio by as much as 21%. But beyond the many benefits of technology innovation is the serious fact that London's position as the insurance centre is threatened. A look back through Lloyd's history shows us that the insurance market has been in this position many times before, and each time innovation has provided the way forward.
In our next post, we're planning to reveal our hard-learned lessons for introducing as well as switching to new insurance software and for reducing the pain of the transition. Subscribe below to get the insider view of the industry.
Insly, global SaaS solution for insurance brokers and agents, raised a seed round of €1M.
A software company established one and a half years ago through spin-off from an Estonian broker company, raised a seed round of 950 000 EUR with numerous angel investors from UK, USA, Estonia, Switzerland and Germany participating in that round.
Insly is the only global SaaS solution for insurance brokers and agents. Customizable cloud-based solution helps to manage clients, policies, objects and payments and offers an easy sales workflow for both the client as well as for the salesperson.
Recent investment will mostly be used for strengthening the company's development team and for mapping out new potential markets for growth.
"The most important achievement of us is the breakthrough to London insurance market. Our sales team has managed to sell cloud based software to most conservative customers – London insurance brokers. They walk around Lloyd's of London with slipcase full of papers and do business mostly based on trust. And now many of them have decided to move all of their core business to cloud and this is really proven to be a right decision for them. This is huge achievement for our sales team and, of course, an important recognition for our product developers," commented Mr Risto Rossar, CEO and founder of Insly.
Insly employs 30 people in offices in London, Tallinn, Minsk, Warsaw and Vilnius. Company's revenue in 2015 was 870 000 EUR and it's growing rapidly reaching at least 1.6 million in 2016.