Insly was participating at the Global InsurTech Summit 2019 in London on March 6-8 supported by Enterprise Estonia (EAS).
Enterprise Estonia (EAS)
Established in 2000, Enterprise Estonia (EAS) promotes business and regional policy in Estonia and is one of the largest institutions within the national support system for entrepreneurship by providing financial assistance, counseling, cooperation opportunities and training for entrepreneurs, research institutions, the public, and non-profit sectors.
Insly was supported in participating at the event Global Insurtech Summit in London by Enterprise Estonia (EAS) with the Foreign Fair Support. Project number EU52916. Maximum financial support by EAS was 7400€.
Global InsurTech Summit 2019
The event was taking place to connect with the shapers of the future of insurtech (insurance technology).
The purpose of participating at the event for Insly:
Connecting with the most senior individuals in the insurtech and insurance space;
Explore what strategies insurance companies are taking to address the challenges and opportunities they face;
Learn from experts how to identify and implement the right innovation strategy;
Get Insly product in front of active buyers and influencers.
Engage with investors from venture firms and insurance providers.
The conclusion for Insly
Insly met many insurtech leaders, CEOs of insurance companies and brokers and had some good contacts to start negotiations. Some conclusions about the event:
Bain & Partners report on Insurance – Customers Know What They Want. Are Insurers Listening?
Investments into B2C oriented insurtech companies are potentially overvalued, and as the insurtech sector matures, commercial insurance focused solutions might bring more success stories.
Data analytics in underwriting and claims will lead to the next major wins for insurance companies.
Contact with Truepic. Cool tech like investigative picture verification tools, very handy in the claim process.
GALLERY
There are different reasons why insurers or MGAs look for new software solutions. The most common are related to the ability to deploy new functionalities quicker to the market or to renew and provide access to newer technologies that enable them to do more or to do things differently. Implementing new software is typically considered an expensive and time-consuming process and is normally set for a minimum period of 5 years. Introducing software more frequently is in most cases uneconomical and exhausting to a company's resources. 
Resource constraints make finding the right solution even more important. Currently, in the UK alone there are over about 43 different insurance software providers known to us (read the article about MGA software providers) each of them with their own focus, functionality restrictions and cost model. Unless you want to speak to all of them you will need a shortlist that matches your requirements the best, so that you could make the choice between 3 or 5 but not from 40. 
To get to the shortlisting process, one should start by describing the functionality needs and following, it would make sense to use an unbiased insurtech specialized consultant to do the first wave of research to narrow down the target audience. The advantage of using a consultant compared to doing it yourself is the same as to using a broker to place your household or PI insurance. They know their area well and can save you time and money. Of course, there is no restriction to doing it yourself.  
Choosing the right partner
 for the job
The first step in choosing the right partner is NOT choosing the wrong partner. While this might be easier said than done, a couple of things to keep in mind: 
The specialist you are hiring needs to 
understand

 

the market well (

they need to be experts in 

insurance 

and 

insurance tech, not just 

IT consultants following a 

process);

be 

independent (a lot are influenced by commissions from vendors and choose based on that);

have extensive experience of doing this;

have a pragmatic process that gets to the right answer based on real-world insight about the platforms (not just spreadsheets and formal reports).

 
When these basic criteria are met, go deeper to find the fit with your business: 
Typically, the specialism can be split into:  
UK

 

vs. other 

markets 

(UK is very different)

 

broking platforms vs. MGA vs. underwriting

 

 

Full stack vs. digital.

 

Life vs. GI. 

 

Front office vs. back-office

etc

 
The consultant really needs to know what the platforms are good for, lest you end up getting random suggestions (you wouldn't want to end up with a broking platform if you were looking for a claims platform!) 
Cultural fit can be important to some client who

 values the process over the insight

, but it might not apply in your case

 

 

Size of the consultancy is certainly a 

factor

 and

 

is more related to affordability than appropriateness. Small clients can't afford large consultancies.

 
Some examples of consulting companies that might be a good fit depending on who you are and what you are looking for: 
There is also the option to build your systems from scratch, but this is costly and even more time consuming than setting up an already existing platform to your own workflow. 
Normal timeline to shortlist 3 to 5 software providers should range from anywhere between 1 to 2 months, depending on the complexity of your requirements.  
Insly, a leading provider of cloud-based policy administration software for brokers and MGAs, is looking for a Chairman to support the next phase of rapid growth.
The business needs to crack multiple customer segments across multiple geographies, raise more capital and hire aggressively if it's to fulfill its promise of becoming a European tech giant and the Chairman must be willing to commit appropriate time to assist.

The value-add chairman sought would be a sounding board and mentor for the CEO, control board meetings and provide business development support where possible.
Key Challenges
One of the most important challenges that we face is building a truly scalable product when many customers can require quite significant product customization. More specifically;
Our product requires some customer and country-specific customization, and this holds back our growth
Should we use more outsourced tech providers for implementation? If so, how?
How should we build our organization to support the anticipated growth? In particular on the enterprise sales side and product/ tech team side
Pricing strategy by geography and customer segment
Business development into the highest value insurance companies
Desired Background
Enterprise SaaS (if insurance then perfect but not necessarily)
You know how to steer venture-backed businesses through rapid international expansion
You have worked as a Chairman before and know what you are up to
Expectations and Offer
Few days a month of focused and dedicated time
Paid with shares and share options
If you think that this is something that you can invest your time into then please apply and our CEO Risto Rossar will reach out to you to discuss.
About Insly
Using APIs in insurance
Application Programming Interface (or API for short) essentially enables connecting various IT systems or applications and allowing them to use each other's functionality. Using APIs in insurance can serve multiple purposes and business opportunities with the potential of bringing with it cost-efficiency and flexibility for selling and managing insurance products.
Traditionally, IT infrastructure in insurance has been heavily reliant on core systems – huge central databases that contain all the policy, accounts and claim information and take care of all of the back-end processing of an insurance company or intermediary.
With the advent of new opportunities in online insurance sales and customer servicing, many of these core systems are now hindering opportunity precisely, because of their centralized and closed off architecture, which does not allow them to "talk to other systems".
For this very reason, Insly has developed APIs for most of the common features so that users can trigger all the functions they can do from the system (like producing quotes, issuing policies, emailing documents adding claims etc.) also from a website or customer portal.
Let's explore some of the uses of API in insurance in a bit more detail.
What are the API use cases in insurance?
One of the most common business cases is online insurance sales.
To do that one usually needs to have 2 things:
A front-end (website or app) the customer can access (be it a broker or the future policyholder) and
A back-end system with the capability to calculate premiums, produce the relevant documents and account files* and most importantly store all the policy data for reporting and account keeping.
Where API comes into play is that it makes the front end "talk" to the back end and allows pushing or pulling of data as needed.
Of course, there may be other elements you wish to include in your sales process, so the scheme can include more pieces performing various functions:
Lead generation app (mass emailing, sales campaigns) that brings visitors to
Client portal where the customer can interact and send quote information, which goes to:
Back office system that

Enriches form data using a risk database
Calculates quote and sends back to the client portal
Issued policy information is sent to
Customer portal where the customer can access the policy and also

Data warehouse with a parameter level overview of your entire portfolio, which in turn allows you to use this insight to make changes to your product on the customer portal and back office system
This type of architecture where multiple applications perform various functions in a coherent business process can be loosely defined with the term "microservices" as opposed to the more centralized "monolith" architecture (google "microservices vs monolith" for a more detailed and technical overview).
Other use cases for APIs in insurance can include client self-service for FNOL and claims management, client communication via chat(bots), data analytics, fraud detection, and many other potential benefits. We will probably see more use cases emerging as the industry embraces this approach more and more.
*As a side note it's fairly simple to create the sales related functionality directly into your website or app and most probably your web developer can do it (if they are any good), but building a robust database and back office system that works for insurance is an exercise we wouldn't recommend undertaking unless you have unlimited resources and a couple years of life you are happy to give away.
A sample case study for a very unique product
Bsurance works in collaboration with Playbrush who sells toothbrushes with a mobile app to motivate kids to brush their teeth. Alongside the toothbrush, Playbrush and Bsurance offer Dental Accident insurance. The toothbrush and insurance are sold together at the same time which means an API is needed to register policies at the time of purchase.
This is how it works:
Once the customer has decided that they would like Dental Accident insurance included to their Playbrush app subscription, Playbrush makes an API call to Bsurance, stating that insurance is required. Shortly after that, Bsurance sends an API call to Insly, describing the details of the insurance policy – customer data, insured persons, sum insured, policy period etc.
Once this is done, Bsurance sends a final request to issue the policy in Insly, which will generate the needed policy documents like Insurer Terms & Conditions, Data Protection Agreement, Claim information, and the Policy Certificate, which are sent to the customer via e-mail which completes the policy issuing cycle.
Thanks to APIs, all of the above happens automatically in a matter of seconds.
If a claim were to happen, Playbrush has provided a webpage where customers can submit the details of their claim and the information is then transferred to Bsurance and Insly. Once the information is in Insly, a designated person from the insurance company will assess the claim and provide the customer the money for the dental repairs.
What does the insurance future look like with API solutions
The ability to connect multiple parties and applications will at the end of the day mean more automated processes and less manual labor as the "unnecessary bits" the customer doesn't need are removed. At the same time, this means increasingly higher expectations from the user when it comes to flexibility for mixing and matching their software solutions into one service.
If you want to discuss how we could help bring your products online
Just book a demo via the link below. We'd love to hear how you do business and your thoughts on how it could be more efficient and automated than today.
Customer messaging platforms are a great way to keep in touch with your existing customers and for engaging new prospects. Messaging platforms have been around for a while varying from simple chat solutions to more sophisticated platforms that combine marketing activities, customer support and client self-service via chatbots.
While the technology isn't necessarily new and has seen some adoption by the insurance community already, there is a large variety of potential use cases brokers should be aware of.
This article explores the various uses brokers can make of customer messaging platforms as well as other ways brokers might interact with such platforms.
Responding to your customer queries effectively
The first and perhaps most obvious use for messaging platforms is customer support as evidenced by an increasing number of websites that tote some form of online chat window. Adding such an element to your website can create a frictionless channel for customers to post their questions and get quick feedback in their preferred manner (there is evidence that chat is becoming the main channel with calls reserved for escalated queries). According to recent consumer trends, having an efficient chat/self service solution can reduce a website visitor from abandoning their journey.
Marketing
Some customer messaging platforms also have outbound marketing capabilities with contextual insight allowing you to capture the contacts of people visiting your website as well as their activity/conversation history, which can later be used to send tailored messages about cover they might potentially be interested in. Intercom, for example, has integrated emailing capabilities which allow you to do bulk emailing to a number of website leads with dynamic content based on the person's interaction with your website or app. E.g if the person had browsed the Motor Insurance section on your site it can trigger a relevant message to pop up in the website chat or trigger the appropriate change of content in outbound email.
Manned vs Automated chat solutions?
There has been a lot of talk of chatbots in insurance media thanks to companies like Spixii making large strides in automating the customer experience. This does not necessarily mean that fully automated solutions are necessarily the way to go for all brokers. Brokers offering more complex lines of insurance such as Commercial Combined might find automating the entire customer journey on a chatbot challenging, but sometimes it can make sense to automate at least part of the journey. For instance, a chatbot is able to very successfully capture a website visitors name, email and general insurance interest after which a real person could take over. This transition can be made quite seamless, but the technology is not perfect so brokers should consider notifying customers when they are talking to a bot vs an actual human being.
Other ways brokers can benefit from customer messaging platforms
Brokers can also benefit using customer messaging platforms that aren't necessarily their own. Insurers and MGAs should consider integrating messaging tools to their existing broker portals to service their brokers faster. The upside of this is that brokers can have direct access to their underwriters while they are working on the platform so if they need help with a quote they are able to post their question and get feedback from the same channel. This saves the trouble of switching to email or call and can also make the problem easier to identify for the underwriter as brokers can conveniently post screenshots through the chat window. Some platforms (e.g Intercom) can also track user activity helping underwriters to quickly get to the bottom of the issue.
Where to start?
Not every broker has an online sales platform so the simplest way to start is by integrating a messaging system to your website.
There are numerous platforms to choose from: Intercom, LiveAgent, Zoho SalesIQ, Freshchat, Kayako, Drift, LivePerson to mention a few.
Thankfully, many of these platforms are also easy to integrate without much technical skill needed. Pricing models vary from the user based to volume-based models, meaning decent customer messaging platforms are affordable also to smaller brokers.
The article was first published on Insurance Age blog.
About Insly
Insly is a cloud-based insurance software for MGAs and Brokers. *Quote & Bind solutions for broker/direct channel. *Slick underwriting and policy admin. *One-click carrier reporting. *API connectivity with unlimited potential.
Managing general agents (MGAs) and innovation go well together. A combination of resources, agility, and specialist knowledge sets MGAs apart from other players in insurance, whether carriers, wholesalers, or brokers. An MGA typically has a focus on a sector or an industry and deeper knowledge than a more generalist insurance carrier, facilitating innovation. At the same time, MGAs have underwriting and claims settlement capabilities that brokers and agents do not have, allowing the MGA to push the innovation envelope further. 
While there may be no method for 'innovation by numbers', MGAs can: 
Offer innovative products to their market

 

Move into new markets

 

Innovate in the way they interact with their customers

 

Improve the way they operate internally

 

Change the DNA of the MGA.

 
We look at each of these possibilities below. 
Innovative products for MGA markets
An MGA that does not know what its customers need is unlikely to innovate successfully. Nowadays, there are considerable amounts of data on customer requirements and pain points, including for niche markets. Business intelligence and data analytics software solutions are available for non-technical business users, meaning that MGAs are not obliged to hire armies of data scientists to get insights out of their data.  
MGAs can use their power and agility to keep pace with industry trends such as pay-for-use solutions. For instance, even in the niche market of aviation, manufacturers are already selling jet engines on a per-usage basis. MGAs can then follow on with usage-based insurance (UBI), using the device data collected via the Internet of Things (telematics via the IoT). A similar approach exists for automobiles. UK geolocation company Telefleet recently launched a new MGA specializing in motor insurance and vehicle fleet risk based on telematics.  
Moving into new markets
Insurance has a large amount of untapped potential. The US insurance market overall generates more insurance revenue than any other country, yet still shows comparatively low rates of premiums per head of population. In another example, insurer Swiss Re estimated that just 1%  of losses were insured in the 2015 Nepalese earthquake, compared with 73% for the 2012 New Zealand earthquake. 
Forward-looking MGAs also approach markets from other angles with offers based on micro-insurance and atomization. In these cases, customers can purchase insurance on a per-item, per-use, and per-period basis. In another example from the UK, Zego offers insurance for the 'gig economy'. With this kind of solution, Uber and Lyft drivers can purchase cover by the hour, Airbnb and Homestay renters by the night, and TaskRabbit and Askfortask jobbers by the day. 
Improving interaction with customers
Blame Amazon (among other service leaders) for customer expectations continuing to rise in terms of choice, responsiveness, self-service, and overall quality of service. Yet once again, MGAs that are on the ball can turn such situations to their advantage. In India, L&T General Insurance Company offers property and casualty insurance to individuals and enterprises, but with a difference. Given the widespread use of mobile phones (some 800 million in India at the last count), the company 'went mobile' from the start, designing in the ability to satisfy customers for their insurance entirely via their mobile phones. 
Other insurance companies have taken a lead from supply chains and retailing organizations by implementing an omnichannel model. Whether by mobile, web, phone or email, they offer the same customer experience with consistent policy pricing and management. Speed and quality of service can also be enhanced by the suitable use of chatbots and artificial intelligence. Insurance provider Lemonade has already made a name for itself through its use of AI for its chatbot Maya and claims bot AI Jim for high-speed automatic claims settlement. 
Rejigging internal operations
Innovation is not necessarily about doing something fundamentally new. It can also simply be a different approach that gets better results. Artificial intelligence is a case in point. Initially seen as highly disruptive and even threatening, AI is increasingly considered to be a tool to help employees work better rather than to replace them. Software start-ups like Logical Glue in the UK have been developing 'explainable AI' (XAI) that helps staff with recommendations about which insurance policies to offer a customer and gives information about the reasons behind the recommendations.  
MGAs that innovate in products and markets also need flexible internal systems, such as Insly, that make it easy to define and launch new products, as well as processes for managing and leveraging innovative ideas. Yet whether the innovation is disruptive or progressive, the agility of many MGAs allows them to transform their operations and move to new, more efficient operating models more easily than their larger carrier counterparts. 
Building new kinds of MGAs
There is also a more radical way to innovate. Creators of MGAs can change the way in which the MGAs are formed or integrated to take on new risks. Boxx Insurance, an InsurTech MGA from Canada, offers its customers a cyber protection platform and risk evaluation tool in addition to selling them cyber insurance. Buzzmove in the UK provides its customers with removal services and associated insurance that it sources automatically through the API of its tech partner Insly. 
Black Insurance from Estonia uses blockchain technology to connect brokers and MGAs directly with capital. Instead of looking to an institutional carrier to help finance the products, funds can  be raised via initial coin offerings (ICO). Black Insurance sees blockchain as a way of rebuilding the existing Lloyds of London business model with considerably lower operational costs for all parties involved.  
Conclusion
The proximity of MGAs to their customers makes them well placed to create and develop suitable new insurance products. They can also extend current activities into underserved areas or adapt characteristics such as granularity (article by article insurance) and term to reach new markets.  
In some instances, MGAs can bring innovation into insurance by using ideas in existence elsewhere. In others, they will need to manage changes specific to the insurance sector, such as the possible replacement of carriers by pools of investors or even by customers themselves in peer-to-peer arrangements.  
Technology will still be a means to an end and not the end itself. A customer-centric approach will continue to be vital. MGAs that understand the difference and can apply the principles in the right way should have a bright  future ahead of them. 
About Insly
Insly is a cloud-based insurance software for MGAs and Brokers. *Quote & Bind solutions for broker/direct channel. *Slick underwriting and policy admin. *One-click carrier reporting. *API connectivity with unlimited potential.
Warranty Insurance is an MGA focused on providing extended warranty and accidental damage insurance for electronics retailers, dealers and manufacturers, specifically those with a large customer base in the CEE. Warranty Insurance's largest customer is Euronics – a well-established retailer with a physical presence in 31 countries across Europe. With the help of Insly, Warranty has launched an innovative insurance product which is offered in Euronics electronics retail stores and also online.
Customer problem
As technology becomes more advanced and complex, the odds of experiencing a potential failure increases. This is further reflected by the ever-decreasing product lifespans and the shortening of manufacturer warranties.
Since technology is playing an increasingly important and broad role in our lives, the chance of experiencing defects or malfunctions is relatively high. Repairing an out-of-warranty device may turn out to be very costly or even impossible. According to statistics, 40-50% of all large appliances have been repaired or replaced between their 3rd to 5th year and 1/3 of them have required multiple repairs. Furthermore, about 80% of defective TV's would have been more costly to fix than to buy a new one. Extended Warranty adds additional years to the existing manufacturer warranty.
Euronics needed a solution for the following:
to simply extend the warranty of the products sold;
to have one system with a simple user interface for the on-site sales team;
All of that being critically important, saving a lot of time and money for both, Euronics and the end-users of electronics products.
Solution
Warranty Insurance worked with Insly to develop the needed solution. Insly solution was able to correspond to all of the customer needs and streamline all the required processes with just some minor tweaks.
"We know that the Insly solution is perfect for policy administration and reporting, but the work Insly's team did to meet our additional needs for sales process simplification at the store level exceeded all our expectations," says Ando Kivilaid, CEO of Warranty Insurance. It is definitely a challenge to find reliable accounting solutions with flexible and simple user interfaces for sales staff in one solution, but this is exactly what Insly has provided us, he adds.
The customization of Insly solution was quick and easy for both Warranty Insurance and Euronics.
End product
As a policyholder, Euronics has concluded the insurance contract for electronic and smart devices, where buyers have the option to keep the insurance cover for their devices in the insurance of third person's insured risk principle.
Thanks to the solution built on Insly platform the sales process is simple for the in-store sales teams. With just a click the insurance cover can be added to a TV or refrigerator sold, many "problems" are solved in a very short period of time on site and in one system.  "This is exactly what we and Euronics were looking for, simple and fast processes with the digital policy handling, via a user-friendly interface," says Ando Kivilaid from Warranty Insurance.
As more customers begin their search for insurance products on the Internet, it makes sense for insurance brokers and agents to start selling insurance online and to create online quote forms and calculators to attract some of those prospects. With the tools and methods necessary to sell insurance online, insurance brokers and agents can potentially increase their business volume with new customers obtained from Internet sources.
ONLINE QUOTES
There are lots of online insurance brokers and agents selling insurance products online. In the ever increasing competitive world of insurance, where there is little to no differentiation between one provider and another, a key area where online insurance brokers can increase market share is by making quote and application process as intuitive as possible. Unfortunately insurance broker companies still neglect the quotation and application process on their websites and present poorly designed, unintuitive and confusing forms to their prospective customers which in turn could see them missing out on conversions.
Key Takeaways
Keep the quote form simple and only ask relevant questions
Do not ask for personal information during the initial quotation process
Don't assume your users know your products
Provide tools or calculators to guide users when completing the form
Provide useful contextual help during the quote process
Ensure the form layout is intuitive and appealing
How insurance companies who sell their products online can consider implementing changes on their website?
Effectiveness: Measure whether users could successfully complete the quote process and answer all questions without making any errors
Efficiency: Measure the time it takes to complete the quote process, the number of questions asked and the number of steps involved
Satisfaction: Measure users perception of the effort it took to complete the quote process and how easy or difficult it felt
Here are 6 key learning points that insurance brokers who want to sell online can use to ensure that they are offering the best experience to their potential customers.
1. Keep the quote form simple and only ask relevant questions
Most online insurance brokers are adding extra fields that were not required for a quote. This tended to increase the time to complete the task and introduce more potential for errors and abandonment. For a quote, name and address details are not required. Equally asking users how they "heard about you" at this stage in the process just adds to the frustration, and rarely gets completed honestly by users just wanting a quote. Questions not required for the quote, such as personal details could be asked later during the application process once users have decided to proceed.
2. Do not ask for personal information during the initial quotation process
On insurance websites, one of the main frustrations users complain of is having to provide personal details in order to receive a quote. Most have concerns about giving their phone number or email address in fear of receiving unsolicited emails and phone calls. This is a significant barrier to conversion which sees them abandoning the quote process in search of another provider who doesn't require personal information before they get a quote.
Online insurance brokers would increase their conversion rate by removing fields that ask for personal information from the quote form. Users will be more inclined to give their email address willingly once they are shown a quote price if they are offered to have the quote emailed to them.
3. Don't assume your users know your products
Many online brokers assume users had read and understood the specific insurance products conditions and had already made a decision which insurance is best for them. In reality most users will jump straight to get a quote before reading any contents on the website and would be unsure when they are required to select a suitable product from the list.
If users are required to know certain information about the products before the quotation process, make them aware of this fact before they begin the process. Better still would be to offer help during the quotation process that explains the options available to them.
4. Provide tools or calculators to guide users when completing the form
The websites that offered a better experience offered tools and calculators during the quotation process that would guide the user when answering questions. For example some users that are taking life cover would not understand some important aspects, such as the amount of cover they would need and would have concerns that they were either under-insured or unnecessarily paying more in premiums.
5. Provide useful contextual help during the quote process
Quote forms must provide some form of help tool tips. This help should be displayed automatically when users click into the specific field and should provide additional information about what is required and more importantly why it's required. Where further explanation is needed the tool tip should provide a link to further information.
6. Ensure the form layout is intuitive and appealing
Most people don't enjoy spending time filling out insurance forms and want to get it over with as quickly as possible. Some of the websites are displaying difficult-to-use and complex forms; with long text heavy questions and poor design with misaligned fields, which would lead to frustrated users who are more likely to abandon the form.
However form layout and design doesn't have to be boring or dull. Find creative ways of gathering information to make applying for a quote enjoyable.
LEADS TO YOUR WEBSITE
Now when you have a really good website for selling online, you will need to generate leads. These could be visitors who sign up to your e-mail marketing list, or visitors who you convert into customers in the moment. 
According to Eisenberg Holdings, companies typically spend $92 to bring a customer to their site, but only $1 to convert them. Therefore it should be no surprise that conversion rates typically range from a mere 1 to 3 percent, according to research conducted by Steelhouse. In other words, 97 percent of the people who come to your agency's website leave without requesting a quote. If you invested 10 or even 25 percent of your efforts on conversion, instead of just 1 percent, you could heavily impact the leads you generate from your website.
Here are some tried and trusted ways to improve your lead generation efforts that you can start to experiment with to boost your conversions.
Optimise your landing pages
First of all, you need an optimized landing page. That means one that is optimized for conversions, and there are many specialist tips that a professional can help you with, including:
focus on only one goal (an email sign up, product purchase, etc.);
don't include any links to anywhere else;
make your CTA stand out using color and design;
state exactly what will happen when prospects click on the CTA (never just say 'Click Here' or 'Submit');
make sure the landing page follows on from where the customer arrived from, such as an email, PPC ad, etc. There should be continuity;
always use social proof, which could come in the form of testimonials or social media counters;
test your headline, CTA, testimonials and anything else until you increase conversions.
Use social media
Many businesses fail to think of social media as a lead-generation tool, but it can actually be very powerful.
One way to do this is to entice your Twitter followers to visit your website to read content, and then encourage them to sign up to your email list. Alternatively, you can sign them up to your list directly from Twitter. This way you are not selling directly, but you are generating leads.
Use content marketing
Content marketing is a form of inbound marketing where the idea is to publish high-quality content in order to encourage shares and build links. When it comes to lead-generation ideas, this should definitely be one of the ones you focus on.
Start by publishing content on your blog, then move onto guest posts. Encourage shares of your content on social media, and the more shares and links you get, the more people will find your site. It will also help your SEO, which will help direct more targeted visitors to your site.
Use dedicated lead-generation pop-ups
Some people love pop-ups, some hate them. However, if used correctly, they can be very effective for lead generation.
You could set up a pop-up that asks people to sign up to your email list when they have been on your website for a short period of time, and this may prove to be effective.
You could also consider using a tool like Social Locker for Word Press. Using this, you can set the popup to appear once a visitor has landed on your page and has read some of the content.
You can then ask for a Facebook Like or a Tweet to continue reading. After the visitor is engaged, they are already enjoying your content, and they may be more likely to oblige. This can help to get more shares, and eventually more leads.
Provide something in return for emails
If you are building your email list, don't assume that people will give away their emails for nothing. You want to get access to your targets' inboxes, and they will want something in return.
Just because what you are providing is free, you must still make sure it provides value if you want to get more leads, so make sure you come up with a good offer.
Boost your leads, boost your conversions
So start to focus on hitting your lead generation targets using these techniques, and you could soon start to see more sales.
Source: experienceux.co.uk, Jason Hulott LinkedIn, InsuranceAgents.com
INSLY is suitable software for selling insurance products online via API service. Please contact us by e-mail and let's discuss in a 15-minutes call the possibilities for your successful online business.
READ ALSO:
Customer Story: Ptarmigan's new insurance trading platform launched
How MGAs are positioned to innovate in the insurance market?
Your Startup Wants to Sell Insurance as an Agency or a MGA?
Customer Story: Cactus launched an online trading platform for commercial combined and contract works insurance covers
Selling insurance is complicated. Not impenetrable, but complicated. The sales process is sort of like a tangled piece of string— it's easy to see the beginning and end but hard to figure out what's happening in the middle.
Kyle Nakatsuji, the author of this article, is a principal at American Family Venture. He is focused on identifying and supporting early-stage companies affecting the future of the insurance industry. American Family Ventures invests across a variety of sectors, including IoT, Fintech, SaaS and data/analytics. 
When you start untangling, you'll find prospect lists, telemarketing, direct mail, traditional marketing and web-based lead generators uncovering and enticing potential customers. You'll also find captive agents, independent agents or brokers, wholesalers, direct telephone sales, the Internet, affiliates, carriers and carrier-like entities selling various products.
Some of these strategies work in coordination or create feedback loops — a customer sees a TV ad, which prompts him to submit a form online, which adds him to a direct mail list, which points him to an online aggregator, which puts him in touch with an independent agent selling insurance on behalf of a managing general agency… as you can see, the number of distribution permutations is considerable.
However, American Family Ventures classifies insurance distribution start-ups using four groupings: lead generation, agency/brokerage, managing general agency (MGA) and carrier.
As pictured above, the primary distinctions between participants in each group arise from the amount of insurance risk they bear and their control over certain aspects of the insurance transaction (for example, the authority to bind and underwrite insurance policies).
However, many other tradeoffs await insurance start-ups navigating among these four groups. If you consider the evolution of digital customer acquisition, including new channels like mobile-first agencies and incidental channels, choosing a niche becomes even more complicated.
In this post, we'll discuss some of the key attributes of each group, touching on topics relevant for start-ups new to the insurance ecosystem. Please note, in the interest of time and readability, this post is an overview. In addition, any thoughts on regulatory issues are focused on the U.S. and are not legal advice.
LEAD GENERATION
Lead generation refers to the marketing process of building and capturing interest in a product to create a sales pipeline. In the insurance context, because of the high-touch sales process, this historically meant passing interested customers to agents or call-center employees. Today, lead-generation operators sell to a variety of third parties, including online agencies and digital sales platforms.
Let's consider a few key attributes of lead-generation providers:
Revenue model — There are a variety of lead-selling methods, but the most common is "pay per lead," where the downstream lead buyer (carrier or channel partner) pays a fixed price for each lead received. When pricing leads, quality plays a big role. Things like customer profile, lead content/data, exclusivity, delivery and volume all affect lead quality, which frequently drives the buyer's price-sensitivity. As a lead-generation provider, you'll generally make less per customer than others in the distribution chain, but you'll also assume less responsibility and risk.
Product breadth — With the Internet and enough money, you can generate leads for just about anything. Ask people who buy keywords for class action lawsuits. However, start-ups should consider which insurance products generate leads at acceptable volumes and margins before committing to the lead-generation model. Some products are highly competitive, like auto insurance, and others might be too obscure for the lead model to scale, like alien abduction insurance (which, unbelievably, is a real thing). Start-ups should also consider whether they possess information about customers or have built a trusted relationship with them — the former is often better-suited to lead generation, and the latter can facilitate an easier transition to agency/brokerage.
Required capabilities (partnerships) — Lead-generation providers need companies to buy their data/leads. Their customers are usually the other distribution groups in this post. Sometimes, they sell information to larger data aggregators, like Axciom, that consolidate lead data for larger buyers. Generators need to show lead quality, volume and uniqueness to secure relationships with lead purchasers, but beyond that they don't typically require any special partnerships or capabilities.
Regulation — While I won't go into detail here, lead-generation operators are subject to a variety of consumer protection laws.
AGENCIES AND BROKERAGES
Entities in the agency/brokerage group (also called "producers") come in a variety of forms, including independent agents, brokers, captive agents and wholesale brokers. Of note, most of these forms exist online and offline.
Independent agents represent a number of insurance carriers and can sell a variety of products. Brokerages are very similar to independent agents in their ability to sell a variety of products, but with a legal distinction — they represent the buyer's interests, whereas agents represent the carriers they work for. Captive agents, as the name suggests, sell products for only one insurer. While this might seem limiting, captive agents can have increased knowledge of products and the minutiae of policies. Finally, some brokers provide services to other agents/brokers that sell directly to customers. These "wholesale brokers" place business brought to them by "retail agents" with carriers, often specializing in unique or difficult placements.
An important difference between the lead-generation group and the agency/brokerage group is the ability to sell and bind policies. Unlike the former, the latter sells insurance directly to the consumer, and in some cases issue binders — temporary coverage that provides protection as the actual policy is finalized and issued.
Some attributes of agencies and brokerages:
Revenue model — Agencies and brokerages generally make money through commissions paid for both new business and on a recurring basis for renewals. The amount you earn in commissions depends on the volume and variety of insurance products you sell. Commission rates vary by product, typically based on the difficulty of making a sale and the value (profitability) of the risk to the insurance carrier. Start-ups should expect to start on the lower end of many commission scales before they can provide evidence of volume and risk quality. Agents and brokers can also be fee-only (paid for service directly and receive no commission), but that's rare.
Product breadth — Agencies and brokerages sell a variety of products. As a rule, the more complex the product, the more likely the intermediary will include a person (rather than only software). Start-ups should also consider tradeoffs between volume and specialization. For example, personal auto insurance is a large product line, but carriers looking to appoint agents (more detail below) in this category usually have numerous options, including brick and mortar and online/mobile entities. Contrast this with a smaller line like cyber insurance, where carriers may find fewer, specialist distributors who understand unique customer needs and coverages.
Required capabilities (partnerships) — Agencies and brokerages are appointed by carriers. This process is often challenging, particularly for start-ups, which are non-traditional applicants. Expect the appointment process to take a while if the carrier isn't familiar with your acquisition strategy or business model. Start-ups trying to accelerate the appointment process can start in smaller product markets (e.g. non-standard auto) or seek appointment as a sub-producer. Sub-producers leverage the existing appointments of a independent agency or wholesaler in exchange for sharing commissions. You could also apply for membership in an agency network or cluster — a group of agents/brokers forming a joint venture or association to create collective volume and buying power.
Regulation — Agencies and carriers need a license to sell insurance. Each state has its own licensing requirements, but most involve some coursework, an exam and an application. As we've recently seen with Zenefits, most states have a minimum number of study hours required. There are typically separate licenses for property, casualty, life and health insurance. Once you have a license, many states have a streamlined non-resident licensing process, allowing agencies to scale more quickly.
MANAGING GENERAL AGENCIES (MGAs)
A managing general agent (MGA) is a special type of insurance agent/broker. Unlike traditional agents/brokers, MGAs have underwriting authority. This means that MGAs are (to an extent) allowed to select which parties/risks they will insure. They also can perform other functions ordinarily handled by carriers, like appointing producers/sub-producers and settling claims.
Start-ups often consider setting up an MGA when they possess data or analytical expertise that gives them an underwriting advantage vs. traditional carriers. The MGA structure allows the start-up more control over the underwriting process, participation in the upside of selecting good risks and influence over the entire insurance experience, e.g. service and claims.
We've recently witnessed MGAs used for two diverging use cases. The first type of MGA exists for a traditional use case — specialty coverages. They are used by carriers that want to insure a specific risk or entity but don't own the requisite underwriting expertise. For example, if an insurer saw an opportunity in coverage for assisted living facilities but hadn't written those policies before, it could partner with an MGA that specializes in that category and deeply understands its exposures and risks. These specialist MGAs often partner closely with the carrier to establish underwriting guidelines and roles in the customer experience. Risk and responsibilities for claims, service, etc. are shared between the two parties.
The second type of MGA is a "quasi-carrier," set up through a fronting program. In this scenario, an insurance carrier (the fronting partner) offers the MGA access to its regulatory licenses and capital reserves to meet the statutory requirements for selling insurance. In exchange, the fronting partner will often take a fee (percentage of premium) and very little (or no) share of the insurance risk. The MGA often has full responsibility for product design and pricing and looks and feels like a carrier. It underwrites, quotes, binds and services policies up to a specific amount of written authority. These MGAs are often set up when a startup wants to control as much of the insurance experience as possible but doesn't have the time or capital to establish itself as an admitted carrier.
Some important characteristics:
Revenue model: MGAs often get paid commissions, like standard agencies/brokerages, but also participate in the upside or downside of underwriting profit/loss. Participation can come in the form of direct risk sharing (obligation to pay claims) or profit sharing. This risk sharing functions as "skin in the game," preventing an MGA from relaxing underwriting standards to increase commissions, which are a function of premiums, at the expense of profitability, which is a function of risk quality.
Product breadth: MGAs of either type often provide specialized insurance products, at least at first. The specialization they offer is the reason why customers (and fronting partners) agree to work with them instead of a traditional provider. That said, you might also find an MGA that sells standard products but takes the MGA form because it has a unique channel or customers and wants to share in the resulting profits.
Required capabilities/partnerships: Setting up an MGA generally requires more time and effort than setting up an agency/brokerage. This is because the carrier vests important authority in the MGA, and therefore must work with it to build trust, set guidelines, determine objectives and decide on limits to that authority. Start-ups looking to set up an MGA should be ready to provide evidence they can underwrite uniquely and successfully or have a proprietary channel filled with profitable risks. Fronting often requires a different process, and the setup time required varies based on risk participation or obligations of the program partner. Start-ups should also carefully consider the costs and benefits of being an agency vs. MGA — appointment process difficulty vs. profit sharing, long-term goals for risk assumption, etc.
Regulation: MGAs, like carriers, are regulated by state law. They are often required to be licensed producers. Start-ups should engage experienced legal counsel before attempting to set up an MGA relationship.
Read more about Insly MGA software.
CARRIERS
Insurance carriers build, sell and service insurance products. To do this, they often vertically integrate a number of business functions, including some we've discussed above — product development, underwriting, sales, marketing, claims, finance/investment, etc.
Carriers come in a variety of forms. For example, they can be admitted or non-admitted. Admitted carriers are licensed in each state of operation; non-admitted carriers are not. Often, non-admitted carriers exist to insure complex risks that conventional insurance marketplaces avoid. Carriers can also be "captives" — essentially a form of self-insurance where the insurer is wholly owned by the insured. Explaining captives could fill a separate post, but if you're interested in the model you can start your research here.
Attributes to consider:
Revenue Model: Insurance carrier economics can be complicated, but the basic concepts are straightforward. Insurers collect premium payments from insureds, which they generally expect to cover the costs of any claims (referred to as "losses"). In doing so, they profit in two ways. The first is pricing coverage so the total premiums received are greater than the amount of claims paid, though there are regulations and market pressures that dictate profitability. The second is investing premiums. Because insurance carriers collect premiums before they pay claims, they often have a large pool of capital available, called the "float," which they invest for their own benefit. Warren Buffett's annual letters to Berkshire shareholders are a great source of knowledge for anyone looking to understand insurance economics. Albert Wenger of USV also recently posted an interesting series that breaks down insurance fundamentals.
Product breadth: Carriers have few limitations on which products they can offer. However, the products you sell affect regulatory requirements, required infrastructure and profitability.
Required capabilities/partnerships: Carriers can market and sell their products using any or all of the intermediaries in this post. While carriers are often the primary risk-bearing entity — they absorb the profits and losses from underwriting — in many cases they partner with reinsurers to hedge against unexpected losses or underperformance. There are a variety of reinsurance structures, but two common ones are excess of loss (reinsurer takes over all payment obligations after the carrier pays a certain amount of losses) and quota share (reinsurer pays a fixed percentage of every loss).
Regulation: We'll touch on a few concepts, but carrier regulation is another complex topic I won't cover comprehensively in this post. Carriers must secure the appropriate licenses to operate in each country/state (even non-admitted carriers, which still have some regulatory obligations). They also have to ensure any capital requirements issued by regulators are met. This means keeping enough money on the balance sheet (reserves/surplus) to ensure solvency and liquidity, i.e. maintaining an ability to pay claims. Carriers also generally have to prove their pricing is adequate, not excessive, and not unfairly discriminatory by filing rates (their pricing models) with state commissioners. Rate filings can be "file and use" (pre-approval not required to sell policies), or "prior approval" (rates must be approved before you can sell policies).
READ ALSO:
Customer Story: Warranty Insurance launched an innovative B2C insurance product for a leading electronics retailer
How MGAs are positioned to innovate in the insurance market?
Your Startup Wants to Sell Insurance as an Agency or a MGA?
Customer Story: Ptarmigan's new insurance trading platform launched
About the Author
Kyle Nakatsuji is a principal at American Family Ventures, the venture capital arm of American Family Insurance, where he is focused on identifying and supporting early-stage companies affecting the future of the insurance industry. American Family Ventures invests across a variety of sectors, including IoT, Fintech, SaaS and data/analytics.
follow @kylenakatsuji for more stories like this. Read the original article.
Looking for an insurance software for your insurance business? Try Insly for FREE!
We recently had the pleasure of interviewing Khoo Kok Peng, Founder of the Singapore-based Svalinn Risk Solutions Pte Ltd.
Who is Svalinn Insurance Agency?
Svalinn is the name of a legendary shield that stands before the sun in Norse mythology. And we are its shield bearers. The role of a shield bearer in medieval times was to protect his lord in battle, using his shield to deflect blows and arrows.
I believe that the same role today is carried on by men and women who make insurance their craft, who serve and put the interests of their clients above their own.
I formed Svalinn in 2015 as an insurance agency focusing on Financial Lines, serving mainly startups and SMEs. Many of my current clients gave me a chance at the start, but I had to work really hard to earn their trust and to make Svalinn one of the top Financial Lines specialists in Singapore. 
How did you improve efficiency in 2 weeks?
We were growing so fast that we simply outgrew our existing CRM system. The old system was unable to track policies bound/renewed/not issued or generate timely reports on outstanding premiums not collected.
I got frustrated with the increasing frequency of missing policy documents and the delay in collection of premium payments. I tried out different software, but was disappointed as most of them didn't fully understand the business workings of an insurance brokerage. Until I found Insly online.
The video tutorials were very useful, so I decided to try out their system.
Märtin from Insly was very helpful in answering all my queries and I was able to setup Insly for my agency within a few weeks.
How has Insly helped your business?
One word, speed.
We don't have to log into multiple systems to find out information about our client's policy, whether the invoice has been issued or if the premium has been collected – everything is available on Insly.
Insly has streamlined our entire process from quotation, binding cover, collecting payment and claims handling. We can see real time information now on all our renewals, new sales, quotations and claims.
Insly has made my agency more efficient and agile Click To Tweet
In summary, Insly has made my agency more efficient, agile and better positioned to take advantage of opportunities in the new economy.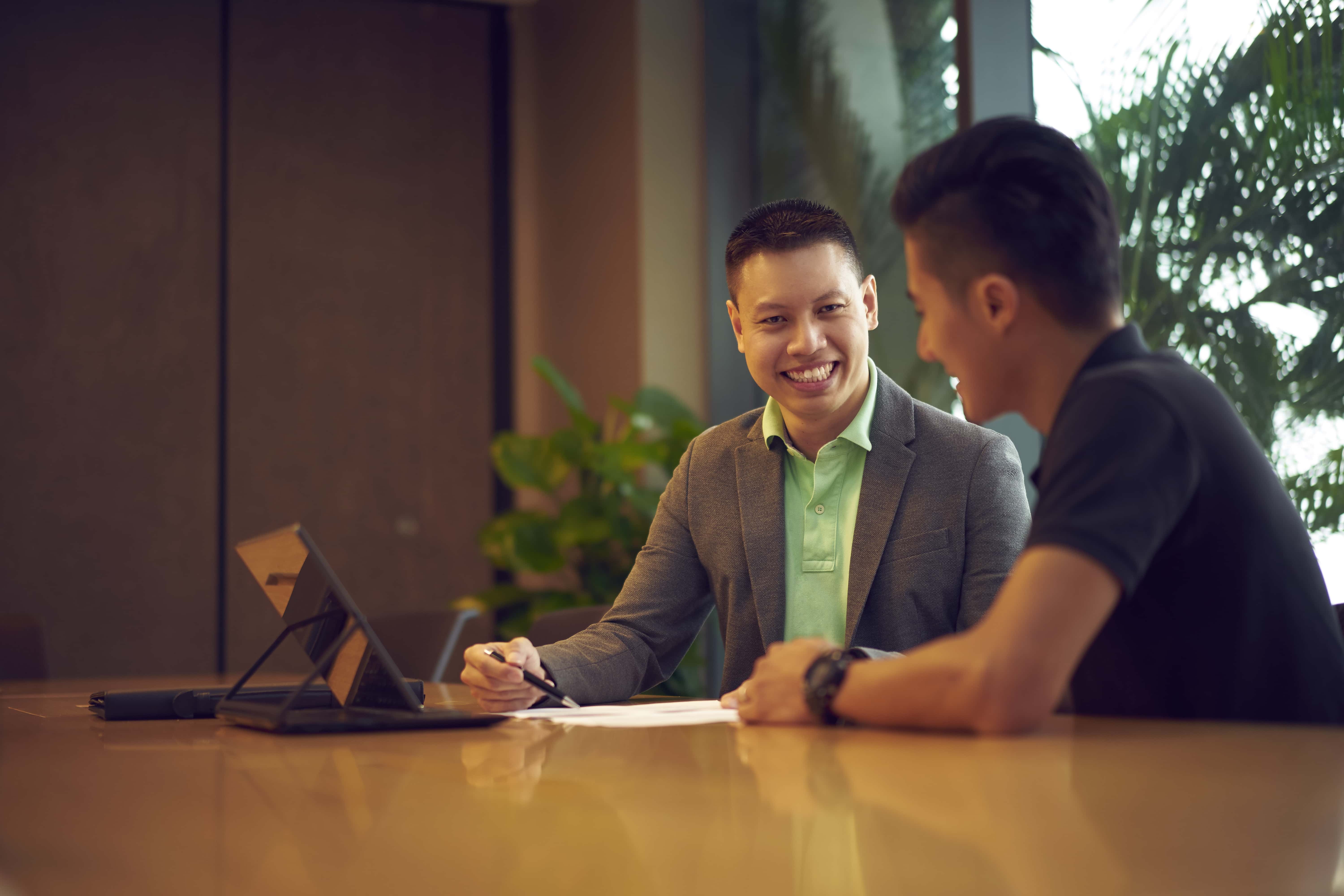 In photo: Khoo Kok Peng, Founder of the Singapore-based Svalinn Risk Solutions Pte Ltd